Delivery to individuals
Our local platforms allow us to react efficiently to requests from our clients for deliveries to private customers (France and Europe).
They give us the opportunity to cope with traffic difficulties in large cities more efficiently.
We can also deliver to private customers all over Europe.
Each delivery is handled with the utmost care by our teams of 2 delivery staff.
We use tools (round optimisation solutions and GPS) to plan the most logical delivery route. Using on-board IT solutions, rounds are downloaded into vehicles. The navigation system guides the driver to each delivery point, ensuring optimal trip organisation.
Electronic Data Interchange (EDI) means that our dispatching clients can check in real time that their deliveries have been made successfully. Transport statistics on quality and delivery times can be communicated on demand, as often as is required.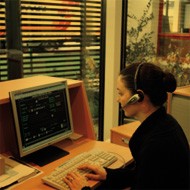 The call centre gives the client a time slot when the appointment is made.
Complete operational network
Reliability/Flexibility
Delivery times respected
Real-time tracking
Call centre
Overseas deliveries